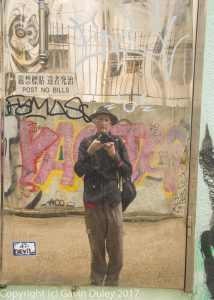 Gavin Duley
I am a student of oenology, botany, and TESOL. I have recently completed an MPhil in Oenology at the University of Adelaide. My thesis looks at the impact of climate on colour in Australian Pinot Noir wines and the use of metabolomic methods to characterise Australian Pinot Noir wines.
I love good food and good wine — especially the food and wine of the Burgundy region. I also love travel. I am a keen photographer, and some of my photos can be seen here on this blog, over at my photo gallery, or on Instagram as @penguinoid. My home page is www.gavinduley.org, and wine tasting notes are mostly available via CellarTracker. My old (pre-2014) blog can be found at oldblog.wodewose.org, and my old photo gallery at oldgallery.wodewose.org.
I am also a scientific editor, and am available to edit scientific papers in a number of disciplines. Please have a look at editbioscience.com for more details.