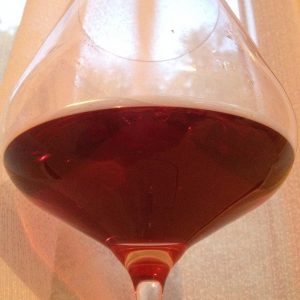 2010 was the first year I visited Burgundy. By coincidence, it was a catastrophically good year across the region — more classical and less rich than 2009, but refined and built for ageing.  I barely knew a grand cru from a premier cru — and, with Burgundy, there is such a lot to learn. I visited Pommard, Volnay, and Meursault for the first time, and took a bus north to see a glimpse of the Côte de Nuits. I walked around Beaune. I tried Burgundian cuisine for the first time. I visited the Hotel de Dieu. Burgundy is such a remarkable place.
I was there during the harvest, and would have seen the grapes being picked. I didn't actually get to work a harvest till 2011, the way things worked out, but it was a good introduction.
Now, seven years on, a lot has changed. Visiting Burgundy again, too briefly, I feel lucky to be able to sample a 2010 from Volnay. Volnay was a village I didn't immediately 'get'. Initially, I far preferred the wines of Pommard, which are richer and more full bodied. Volnay, elegant, light, ethereal, escaped me. Over the years, I've drifted from preferring Pommard to preferring Volnay. Seven years. A lot has changed.
This particular Volnay — Bernard Delagrange's 2010 Volnay 1er cru, presumably a blend of premier cru vineyards, is a perfect example. At seven year's of age, it still seems very young. It's fresh, and lively, and full of primary fruit. It hasn't yet developed any aged characters. It has plenty of cherry, with a touch of pomegranate and perhaps cassis, with lots of sweet spice, and is elegant and light. I love the way the light refracts through it — still supple cherry red, translucent.  Elegant. It'll keep a good few years more. It's a vintage — and a region — I hope to keep returning to.
Colour: light cherry
Nose: cherry, pomegranate, cassis. Dark chocolate. Sweet spice. Old oak, vanilla.
Palate: still seems v.young. Lots of red fruit — cherry, raspberry, pomegranate. Perhaps a touch of cassis. Sweet spice. Fine grained, slightly drying tannins. Moderate, berry-like acidity. Smooth, subtle/supple and medium bodied, elegant. Not the most complex Volnay, but very pleasant and typical of the village nonetheless. Very nice. 13% alcohol.