De-stemming by hand
iPhone SE, built-in 4 mm (~29 mm) lens, 1/17 sec, f/2.2, ISO 500.
I have been wanting to try my hand at making my own wine for some time. I have, of course, helped others make wine numerous times, first during my oenology course at the University of Adelaide, and as a cellar hand. But I was always following someone else's instructions, and had little input myself. Perhaps it's an ego thing, but I wanted to try making a wine myself.
The problem for some years has been obtaining grapes. For years, I'd tried to grow them myself, but without luck. Perhaps it was the south facing slope, the lack of rain, or the poor (free-draining, eucalypt mulch) soil. In Sydney, at least, it's possible to buy wine grapes from Flemington Market, and this is widely publicised. In Brisbane, there did not seem to be any equivalent… at least, not that I could find online. As it happened, there was. Eventually, I found that Ireland 53 at Rocklea Markets sells wine grapes for a few weeks in March, if you order in advance. Last year, I missed out by a few weeks. This year, I was ready…
After 'phoning to confirm, I got up at 5:30 am to be at the market by 8 am on Sunday. I bought a crate with 20 kg of Murray-Darling grenache for AU$30. There wasn't a choice, it was a matter of what was available at the time. The quality seemed decent — a bit of rot, but nothing too serious. I don't have a refractometer, but the fruit tasted very sweet, and the juice was rich and delicious. Being grenache, it was safe to assume it probably at least 13,5° Baumé, which works out as approximately 14% potential alcohol.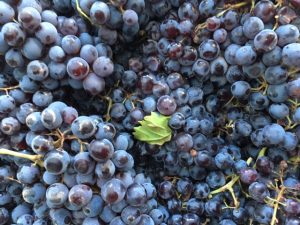 Murray-Darling Grenache
iPhone SE, built-in 4 mm (~29 mm) lens, 1/20 sec, f/2.2, ISO 200.
The first problem was to de-stem the grapes. Not having a de-stemmer (this was being done on the cheap!), I hand de-stemmed the grapes into a food grade 20 L plastic bucket, throwing in maybe a dozen or so whole bunches. The idea was that the stems would add some tannins and some structure, something which grenache can sometimes lack.
Interestingly, I noticed some of the bunches were more 'gris' than 'noire' in colour. This would be a phenomenon that would be more explicable in France, where I'd assume that a few vines of grenache gris were planted in among the grenache noir. Since grenache gris is rare in Australia, I assume it's either within normal variation from grenache noir, or it's something else altogether. Either way, the bunches were ripe and so went into the ferment…
Fermenting must
iPhone SE, built-in 4 mm (~29 mm) lens, 1/33 sec, f/2.2, ISO 25.
Finally, I crushed the grapes as best as I could, and inoculated with R56 yeast (with EC1118 on standby, in case the alcohol levels are too high for this particular yeast). A potato masher served to plunge the ferment. After a few days, the colour looked good, and the wine was starting to taste pleasantly of strawberries. So far, it had not gone volatile or oxidised (a problem with grenache in particular, and with small ferments in general). But, of course, that can always change.
The next challenge is pressing into barrel… given that I have neither press nor a barrel. While small presses and 10 L barrels are available, they are expensive. I am trying to do this on a budget, so I will improvise…