I visited Melbourne for a few days last month, a rare chance to try a few of the restaurants there. I will post a few impressions here on the blog. They are not quite reviews: I don't feel I can be as authoritative as that. Nonetheless, it was interesting to try some different dishes, and different cuisines.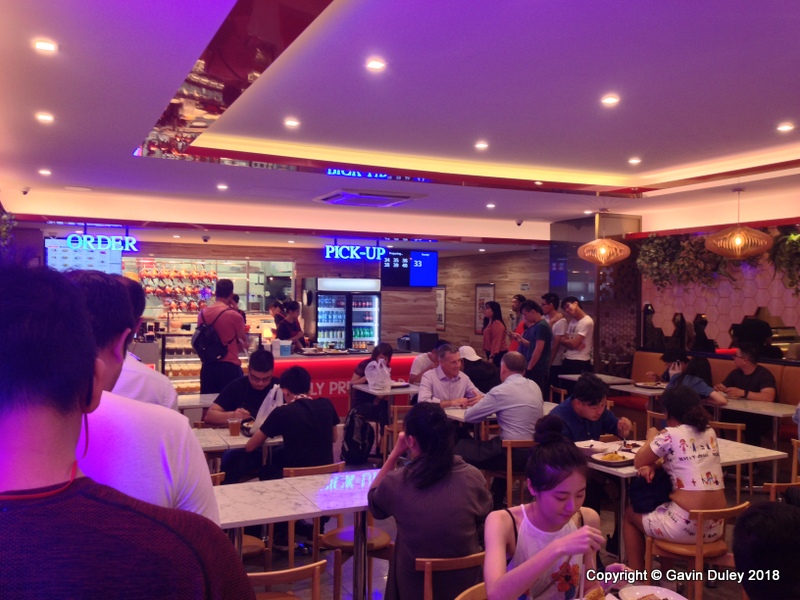 Hawker Chan, Melbourne, 22nd January 2018 17:17
iPhone 4s, builtin 4.28mm (~35mm) lens, 1/24 sec, f/2.4, ISO 50.
One place I felt I really had to visit in Melbourne was Hawker Chan. This is the local branch of a Singaporean restaurant that has been described as the world's cheapest Michelin-starred eatery, one of quite a few that have opened around Asia. It'd been a while since I'd got to eat so well, so I didn't need much encouragement to go looking for it. And it's not often that you get such good food for less than AU$16 (~€10.20)!
Realising that the queues would be potentially quite impressive, I tried to arrive early, getting there at around 17h20. There was already a queue, but just enough that I had time to decide what I wanted before I got to the till. It may have a Michelin star, but there's no table service! Since the soya sauce chicken with rice is their signature dish, I had to have that. I also wanted bean sprouts, so ordered that too. There will still tables free, so I sat and waited for my meal. Again, no table service: your number shows up on a board, and you go and collect it.
I had no complaints once I actually got my dish. The chicken was rich, tender, and moist. Like Peking Duck (北京烤鴨) the skin was tender, rich, and moist, but the skin crispy and flavoursome. It wasn't as rich as duck, but richer than I'm used to for chicken. As with Peking Duck, the meat and bone were cut through with a cleaver, allowing it to be eaten with chopsticks. The beans and rice, and the bean sprouts I'd ordered as a side, complemented it perfectly — as did the various chili sauces, and the sweet tea. Chicken can be a bit dry, or a bit bland, if not cooked well — but there was nothing to complain about here. I could understand why this dish attracted the attention of the Michelin inspectors.
It was still early when I left to get the tram back to my hôtel — but, by then, the queue was out the door and starting to stretch along the street. Another quiet weekday for Hawker Chan…!
Soya sauce chicken and rice, Hawker Chan, Melbourne, 22nd January 2018 17:42
iPhone 4s, builtin 4.28mm (~35mm) lens, 1/20 sec, f/2.4, ISO 50.
As the tram rumbled back out to the suburbs, I had some time to think. Arriving back at the hôtel, I bought a half bottle of Marlborough Sauvignon and some chevre as a de facto desert. Impressions of a restaurant, or of a wine, can be shaped by preconceptions. Sometimes, even good food can disappoint if it fails to live up to the hype. I had high hopes for Hawker Chan, based on what I'd read, and it comfortably exceeded them. Realistically, eating out so well for so little in Australia is a rarity, so perhaps I am being less critical than I normally would. The main course was AU$6.80 (~€4.30), the soya bean sprouts AU $6.00 (~€3.80), and my plum juice AU$3.00 (~€1.90) — AU$15.80 (~€10). Nonetheless, I loved the meal, and would be a regular if I lived in Melbourne. I would be interested to see how it compares with the original in Singapore, too…
Hawker Chan, 157 Lonsdale Street, Melbourne, VIC 3000, Australia
Open 10h00-22h00 Mon-Sun, no reservations.
Web: http://hawkerchan.com.au/