In the third, and perhaps final, instalment of this saga (coughs), I finally bottled the wine. Part 1 can be found here, and part 2 can be found here. It had been on lees since April, with no racking or lees stirring. Time on lees can add complexity to wine, so although I'd originally planned to bottle the wine in May or June, the additional time on lees was most likely beneficial. No need to panic yet!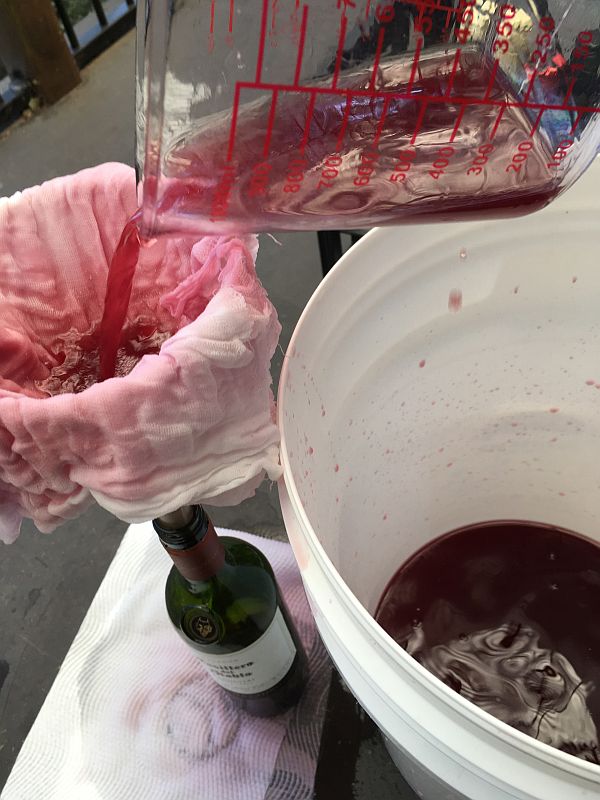 The hardest part,as is often the case, was cleaning. Since I am cheapskate, I was re-using bottles, which needed washing with water, and then with hot water and sodium metabisulfite in the form of a half a campden tablet. I also used the same food-grade bucket that had been used as a fermenter for blending. I emptied both demijohns into the bucket, along with half of a campden tablet, after tasting the wines to ensure that they had not spoiled or developed taints. Thankfully, neither had.
The wines were bottled using a funnel and some muslin as a filter. Despite this, a small amount of lees made it into the bottled wine, just enough to make the wine slightly cloudy. In the past, this would likely have been seen as a fault, but there has been increasing tolerance of cloudy wines in part due to the natural wine movement — so I wasn't unduly worried by this. Thankfully, it was all a fairly simple task, and nothing went wrong. Even if it makes it a bit boring to read about…
The last task was to label the bottles. Since the grenache grapes were grown near Red Cliffs in the Murray-Darling region, I labelled it as a Murray-Darling Grenache. Most were labelled as 'Maison Duley', some with 'Chateau de Bas-Beechmont' as well. (I also noted the grape grower, as it was labelled on the crate of grapes I bought at the Rocklea Market).
So, the real question… how was the wine? Well, it seems good. The colour is a moderate to light strawberry/pink, which is quite good for grenache. When first bottled, it was still quite dominated by liquorice and medicinal characters, with raspberry and strawberry in the background, as well as some more yeasty, leesy character. There was also some stemmy, woody character in there too, presumably from the whole bunches. It was also quite carbonic and fresh, with some carbon dioxide still in solution.
After being left in a glass for a few hours, it seemed more fruity, with raspberry, strawberry, and maybe a hint of balsamic. The stemminess is still present, maybe providing some slightly herbaceous elements to the flavour, but is not dominant or over-bearing. The acidity is fresh and lively, and the tannins are very smooth and understated. Overall, I'm happy with it, and will see what it's like after it's like after a month or two. And it's been fun — which, I guess, was the point…