Continuing my 'mini reviews' or impressions of some restaurants I got to visit whilst I was in Melbourne recently, which I started with my impressions of Hawker Chan.
On my last day in Melbourne, I decided to try and find some of the alleyways for which the city is famous, and the cafés and street art that are so often features of these alleys. On previous trips to Melbourne I had looked for them, but apparently walked past them completely oblivious to what I was missing. So I'd managed to visit Melbourne and not find a decent café… not a great start!
I started by locating Hosier Lane, one of the more famous street art localities, and had a bit of a wander with my camera.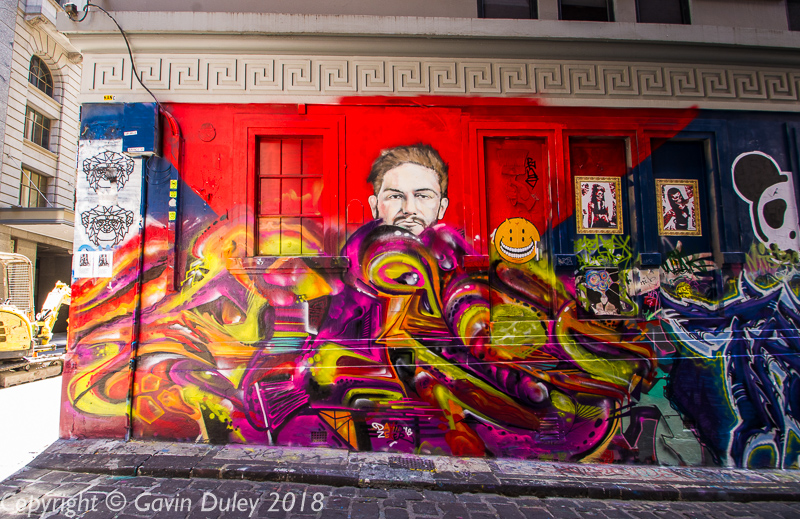 Street art, Hosier Lane, Melbourne, 23rd January 2018 11:37
Pentax K-x, 10-24mm lens @ 11mm, 1/30 sec, f/8.0, ISO 400.
There were a couple of restaurants here that looked promising, but I decided to push on anyway.
A few wrong turns eventually brought me to Centre Place, a lane so small it'd be easy to overlook. It turned out to be a characterful lane full past bursting with tiny cafés and restaurants, all of which looked worth sampling. Certainly, one meal did not seem enough to do justice to the place. But given I was in Melbourne, I felt I had to try both the coffee and the café culture, and after perusing menus for a bit, picked the Little Denn for some lunch. The menu had quite a few options that looked tempting, but in the end I decided on the eggs florentine with rice pancakes, spinach, and tomato, and added some chorizo. I also ordered a café latte.
Eggs florentine at the Little Denn, Central Place, Melbourne, 23rd January 2018 12:34
iPhone 4s, builtin 4.28mm (~47mm) lens, 1/20 sec, f/2.4, ISO 200.
I suppose it's expected that I should say that the coffee was the best I'd ever had, a revelation, a miracle of the barista's art. I would not award it that accolade, but it was very good. (That accolade would go to The Coffee Academics in HK, for their ice drip coffee — much as I realise this might be heresy to Melbournites!). The food was beautiful too, particularly the rice pancakes; the addition of chorizo made the dish for me. Much of café culture has passed Queensland by, so it was a pleasant change to be able to sit in a good café in pleasant surrounds.
After finishing lunch, I decided I should walk around town for a bit, and then go back for a second lunch. After all, I had a late flight home, and wasn't sure when I'd get dinner. And I certainly wouldn't get to check out such good restaurants again for a while. It was dangerously easy to rationalise. I didn't get much further than Federation Square. By 14h50, I was back in Central Place, and this time I decided to try Shandong Mama's fish dumplings. At the time, I wasn't aware that this was an offshoot of a larger restaurant in another part of the city centre, but nonetheless it proved a good choice. This was a tiny place too, with just a few tables jammed in to a small shopfront.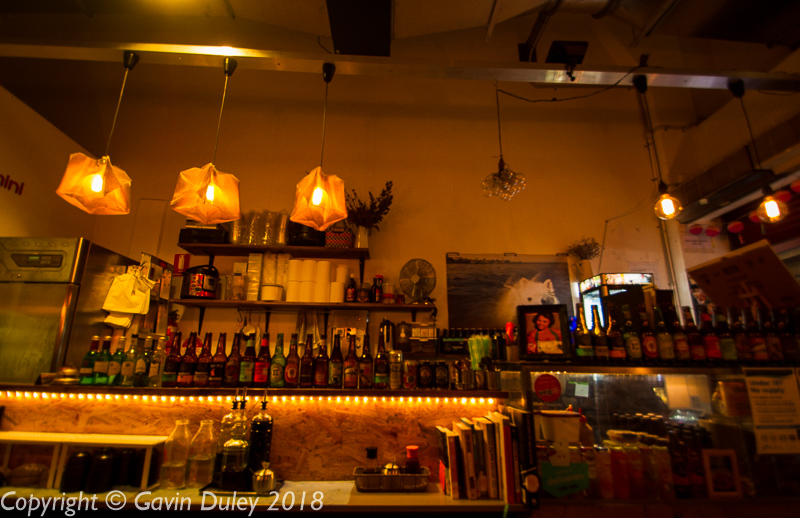 Shandong Mama Mini, Central Place, Melbourne, 23rd January 2018 14:41
Pentax K-x, 10-24mm lens @ 10mm, 1/25 sec, f/3.5, ISO 640.
I'd read that their signature dish was their fish dumpllings; I went for the mackerel boiled dumplings. The menu describes this as "fresh Mackerel fillet mixed by hand with coriander, ginger and chives into a mousse-textured filling, wrapped in home made very thin dumpling skin", which it notes is a "traditional recipe from the coastal city of Yan Tai in Shandong province". Whilst mackerel can be overpoweringly fishy, in this dish, it was delicate and perfectly balanced with the coriander and ginger; the texture of the mousse was beautifully smooth. The dumpling skin was gorgeous too: thin, moist on top, crisp on the base. Lovely.
Mackrel dumplings, Shandong Mama Mini, Central Place, Melbourne, 23rd January 14:50
iPhone 4s, builtin 4.28mm (~47mm) lens, 1/15 sec, f/2.4, ISO 500.
I resisted the temptation of a bottle of beer (of which there was a good selection), and instead tried their home-made plum juice, which was also flavoured with liquorice. Given that this was my second lunch, my decision to order ten dumplings rather than six  may have been somewhat rash, but was not regretted. Much. Though the last dumpling was a struggle, it was not an unpleasant one.
By the time I'd finished and paid, it was time to walk back to Southern Cross train station to get the bus to get to the airport to get the plane. It felt like a chance to walk off lunch, in any case, and to go back over my impressions of Melbourne from a too-brief stay. I'll be back, of course.
The Little Denn, 6 Centre Place, Melbourne, VIC 3000, Australia
Open 6h30-17h00 Mon-Fri, 7h30-19h00 Sat-Sun
Facebook: https://www.facebook.com/littledenn/
Shandong Mama Mini, 5 Centre Place, Melbourne, VIC 3000, Australia
Open 11h00-21h00 Mon-Sat, 11h00-17h00 Sun, no reservations