Queensland is not the first destination that would come to mind for food and wine tourism. However, one part of the state is slowly gaining a reputation for producing high quality wines. The Granite Belt has the advantage of sandy, granitic soils and a relatively high altitude that provides it with a cooler climate than its latitude would suggest.
In recent years, an increasing number of small to medium sized producers have started to produce some exceptional wines, particularly as the styles and cultivars that suit the region are beginning to be determined. Equally, other producers have experimented with unusual or lesser known cultivars as part of the "Strange Birds" scheme, which has been organised by the local tourism authority. Many of these wines are well worth trying.
In my opinion, the main attraction for visitors in the area is the numerous cellar doors. Unusually for a wine region, there is little outstanding in the way of restaurants or, except for a few local producers, food shops. However, this is more than made up for by the many cellar doors. I would recommend the region as a good destination for a short break for those living in or visiting south-east Queensland.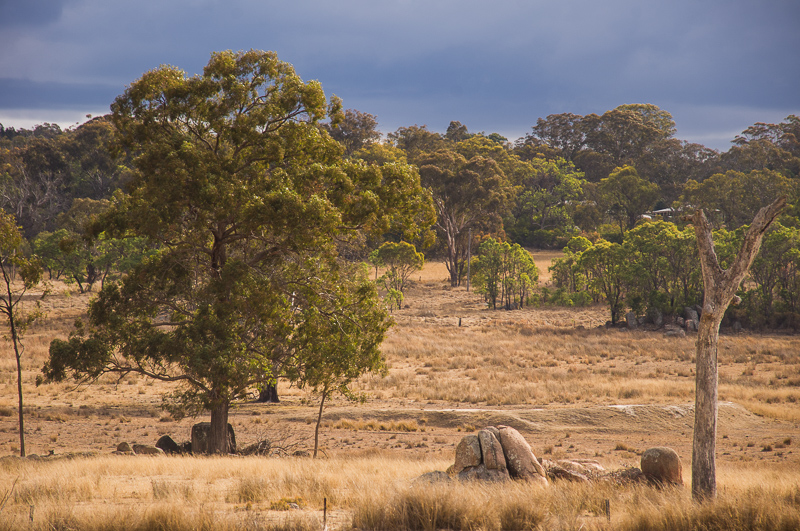 Wineries
There are a lot of wineries locally, and consequently I have only listed a small number of them. I have limited myself to wineries I have visited and can recommend, but there are others I am not familiar with that are also no doubt excellent.
Ballandean and surrounds
Ballandean Estate, 54 Sundown Rd, Ballandean, Qld 4382. The oldest and largest winery in the district, which was established in 1932. They have a large range of wines, including some easy-drinking wines that may not interest wine enthusiasts, as well as more serious, age-worthy wines. They also have the oldest plantings of Shiraz in the region. The Opera Block Shiraz, "Messing About" Shiraz Viognier, and Saperavi are always excellent quality. Open 9am-5pm daily, except Good Friday and Christmas day.
Pyramids Road Wines, 25 Wyberba Lane (off Pyramids Road), Wyberba Qld 4382. An excellent small producer who make distinctive wines. In particular, their Mourvèdre and Petit Verdot are worth trying, and Bernie's Blend is generally excellent (the exact blend varies from year to year). Open 10am-4:30pm daily.
Bungawarra Wines, 181 Bents Rd, Ballandean, Qld 4382. Another excellent small producer, with one of the oldest vineyards in the region, producing nuanced, age-worthy wines. Open 10am-4pm daily.
Bent Road Wine/La Petite Mort, 535 Bents Road, Ballandean, Qld 4382. One of the few organic producers in the region (but note they're not certified), they produce interesting, distinctive wines that go well with food. They make excellent Tempranillo and Marsanne. They are also experimenting with extended maceration for both red and amber/orange wines, and use of Georgian kvevri for many of their fermentations. Open by appointment only.
Wild Soul Wines, Horans Gorge Road, Glen Aplin, Qld 4381. A tiny local producer who make wine from their 1 ha organic vineyard, which is planted with Shiraz, Cabernet Sauvignon, and some Merlot. The wines are light to medium bodied compared with other local wineries, but age well. Open 10am-4pm on weekends and public holidays (i.e., bank holidays), but it's worth phoning in advance (+61 7 4683 4201) to confirm that they are open.
Stanthorpe and surrounds
Ridgemill Estate, 218 Donges Road, Severnlea, Qld 4380. Producer of perhaps one of the best Chardonnays in the region–in my opinion, anyway. They are also one of two local wineries to produce a Riesling. The Granite Belt would seem an ideal region for Riesling given its cool climate and granite soils, but unfortunately it produces vanishingly low yields when grown here. The resultant wine is lovely, nonetheless. They also have accommodation in small cabins near to the vineyard. Open 10am-5pm Monday-Saturday, and 10am-3pm Sunday.
Robert Channon Wines, 32 Bradley Lane, Stanthorpe, Qld 4380. Famous for their Verdelho—which they make dry, sweet, and sparking versions. They are also one of the only producers in the region to make a decent Pinot Noir. Open 10am-5pm on weekends, and11am-4pm on Friday, Monday, and Tuesday.
Severn Brae Estate, 49 Back Creek Road, Severnlea, Qld 4352. A good small producer, who also makes his own cheese and preserves. Open 10am-5pm daily.
Casley Mount Hutton, 94 Mount Hutton Road, Greenlands, Stanthorpe, QLD 4380 (GPS: 28.6664 S 151.8045 E). This winery is a bit off the beaten track—I got thoroughly lost on my visit there—but worth the detour. As well as excellent Cabernet Sauvignon and Shiraz, they make a complex, age-worthy Chenin Blanc—a rarity in Australia. Another rarity is that they offer a wide range of back vintages at fairly reasonable prices. Open 9:30am-4:30pm Friday-Monday, including public holidays and school holidays
Boireann Winery, 26 Donnellys Castle Road, The Summit, Qld 4377. One of the most widely known Granite Belt estates, who produce a range of complex, age-worthy red wines. I haven't yet visited them since they changed ownership, but I presume the new owners are continuing in the footsteps of the winery's founders. Open 10am-4pm Friday-Monday.
Heritage Estate, New England Highway, Thulimbah, Qld 4376 or 747 Granite Belt Drive, Cottonvale, Qld 4375. A small winery that is known for its excellent Chardonnay. They also make an excellent Marsanne, as well as some very good red wines. I haven't visited since the change of ownership, but they have retained the same winemaker, and the original owners have stayed on as advisors. The Thulimbah cellar door is open 10am-4pm every day, and the Cottonvale cellar door (which is attached to the winery) is open 10am-4pm Monday-Friday, and 9am-5pm on weekends.
Restaurants and cafés
Many wineries, including Ballandean Estate and Robert Channon Wines, have restaurants or cafés as part of their cellar door. I haven't yet visited any of these, so am reluctant to make recommendations.
Hanasuka, 13 Davadi St, Stanthorpe, Qld 4380. An excellent small Japanese restaurant, serving a range of simple but delicious Japanese dishes; opened in mid-2019. Open 10:30am-3pm & 5pm-8pm Monday, Wednesday, Thursday, and Friday, and 11am-3pm & 5pm-8pm Saturday and Sunday. Closed Tuesday.
Sutton's Juice Factory Cidery & Café, 10 Halloran Drive, Thulimbah, Qld 4376. This local orchard has a very good café and known for its excellent (but expensive) apple pie. It also produces ciders, juices, and preserves, and offers pick-your-own apples, see the entry under 'Other food and wine attractions'. Open 9:30am-4:10pm daily.
Aussie Beef Steakhouse, 1 High St, Stanthorpe, Qld 4380. A decent small restaurant attached to a local motel. They serve a selection of local wines. Open 6pm-late Tuesday-Friday, 5:30pm-late Saturday, 7:30am-9am Sunday; table reservations +61 7 4681 1533.
Vixen's Bakery Cafe, 23 Maryland Street, Stanthorpe, Qld 4380. A good small bakery and café that's great for a quick breakfast, lunch, or coffee. Open 7:30am-4:30pm Monday-Friday, and 7:30am-1pm Saturday.
Other food and wine attractions
Regular visitors may remember Vincenzo's at the Big Apple as being an excellent, well stocked delicatessen. Sadly, they closed in 2018.
Heavenly Chocolates, Pyramids Road, Wyberba, Qld 4382. A small, local chocolate producer that provides an excellent stop off on the way to Girraween National Park. Their hot chocolates are also excellent. Open 10am-4pm Mon-Fri, as well as on public holidays and school holidays.
Sutton's Juice Factory Cidery & Café, 10 Halloran Drive, Thulimbah, Qld 4376. A local orchard that produces excellent ciders, apple juices, and preserves. It is also possible to pick your own apples during the harvest period, and they have a wide range of heritage varieties. The café is also very good—see the entry under 'Restaurants and Cafés'. Open 9:30am-4:10pm daily.
Stanthorpe Cheese and Jersey Girls Café, 4 Duncan Lane, Thulimbah, Qld 4376. A small cheesemaker who produce some excellent (if expensive) cheese from their own herd of Jersey cattle.
Severn Brae Estate, 49 Back Creek Road, Severnlea, Qld 4352. A local winemaker who also produces his own cheese and preserves. Open daily 10am-5pm.
Other attractions
Stanthorpe Museum, 12 High Street, Stanthorpe, Qld 4380. An excellent small museum housed in a number of historic buildings that have been moved to the site. The museum chronicles the history of the area, particularly that of the early pioneers. There is also an interesting (but small) display of Aboriginal artefacts. While the museum doesn't focus on the wine industry, an exhibit on the Italian heritage of the region contains some history of winegrowing in the area. Open 10am-4pm Wednesday-Friday, 1pm-5pm Saturday, and 9am-1pm Sunday; Admission $7.
Girraween National Park. A beautiful national park that's a great place to see some grey kangaroos, and to go for either a short, easy walk—or to try walking all the way to the top of the Pyramid for the views. "Girraween" means "place of flowers", a name that it more than lives up to during the spring. Girraween National Park is a short drive from Ballandean and is on the same road as Pyramids Roads Wines and Heavenly Chocolates.
Bald Rock National Park. This is just across the state border from Girraween National Park and is contiguous with it. Consequently, it's quite a drive to get there, but well worth it. The view from the top of Bald Rock is worth the walk. Parking is $8 per vehicle.
Note that national parks can be closed due to bad weather or bushfire danger—it's worth checking online prior to travel.
(Disclaimer: I have no commercial or personal interest in any of the places mentioned. I did, however, work as an apprentice winemaker at Heritage Estate for a few months in 2011-2012, under the previous owners.)
This was originally written for inclusion in JancisRobinson.com's summer 2019 writing competition, but was not selected. I am therefore republishing it here.
UPDATES:
5th January 2020: added a new restaurant (Hanasuka), and a bit more detail about Bents Road Wines and Pyramids Road Wines.